New Resources for Chaplains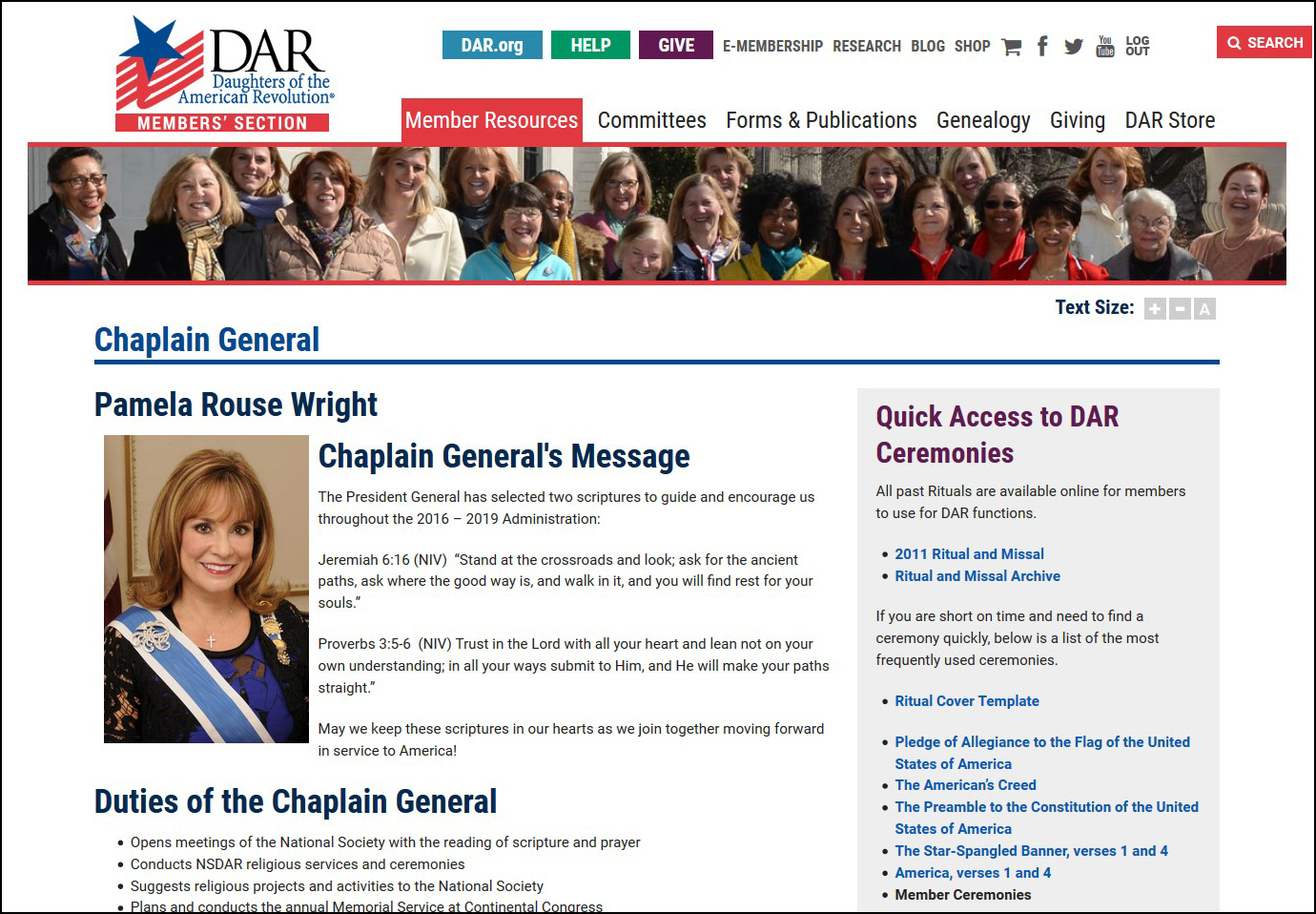 We are delighted to introduce you to a new resource on the Chaplain General's page of the members' section of the DAR website.  Along the right side of the page, is the "Quick Access to DAR Ceremonies" box. From here you have the option to print the individual ceremonies, rituals and prayers you wish to use at your DAR events and place them in a binder for more convenient hardcopy access. Additionally, there you will find a new template for personalizing a Ritual cover with your chapter name for your binder.  Throughout the year, you can continue to add ceremonies, rituals and prayers as needed. 
This new "Quick Access to DAR Ceremonies" resources section has been created as a result of member feedback and requests for access to rituals used in your local DAR ceremonies that you can easily print and customize to serve your individual chapter needs. Our DAR ceremonies and rituals are rooted in the traditions of our organization and we hope these tools assist you in incorporating these traditions in ways that best suit your chapters today.
The Daughters of the American Revolution has traditionally included spiritual elements in its ceremonies since our founding in 1890 but religion does not have a bearing on membership criteria and chapter activities. While rituals continue to be important to many members as part of their DAR ceremonies, it is also important that states and chapters respect members of differing beliefs.
Chapters are welcome to incorporate suggested rituals and prayers into their events however they decide is best for their chapter and in some cases that could mean altering or foregoing the prayers altogether. We have attended meetings where Indigenous American prayers, metaphysical entreaties, secular poems and a variety of spiritual as well as non-spiritual invocations have been offered. Members need not embrace any religion, any faith, nor any creed to enjoy membership in the DAR. Nor does membership hinge on reciting a ritual of induction into membership.
The Chaplain General's invitation to "pray in your faith and tradition as I pray in mine" has resonated with many of our members and may be considered when customizing rituals in your own chapters. May we continue to respect one another's belief no matter the Person or object of belief.  
As you use these resources to meet the needs of the members of your chapter, we continue to welcome your feedback. If there are other ceremonies, rituals, prayers or secular remarks you would like to see added to this section, please let us know so we can consider adding them in the future to accommodate the diverse beliefs of our chapters and membership.
We hope this new resource for chaplains is helpful and provides an easy way to create a customized printed Ritual to easily carry with you for DAR ceremonies.